A Marriage Proposal Wrapped In A Valentine's Towboat Renaming
Most fairytales start with once upon a time. This one starts with once upon a towboat.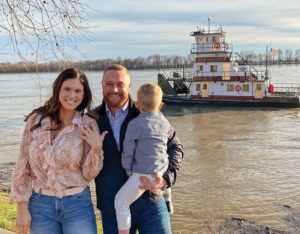 The towboat is the 1,200 hp., twin-screw Brooks Andrew, an Evansville Marine Service harbor vessel named after 5-year-old Brooks Andrew Newman.
A few years ago, Kyle Aldrich, 33, executive vice president of Evansville Marine Service, met Brooks' mom, Meagan, 27, a social media and public relations manager for Working Distributors, the Evansville, Ind., Anheuser-Busch wholesale distributor, at a country music concert in Evansville. For him, it was nearly love at first sight. When he saw her across the room, he knew he had to meet her.
For her, it took a little longer. She messaged him on Instagram a few months later, and they went out on a date.
Even on that first date, the river was a part of their story. After a meal at Café Arazu on the riverfront in Newburgh, Ind., they went to a wine festival at the old lock and dam there.
How did Meagan know Kyle was the one?
"Honestly, he's probably the nicest person I've ever met," she said. "He's very trustworthy, and the way he was with my son kind of sealed the deal for me."
Kyle said as he got to know Meagan better and then met and spent time with Brooks, who was then only 1-1/2, he got to know a side of her he liked even more.
"Seeing the way she was around her son, it was very special to me, and I knew that's what I wanted in a partner, a wife and a mom," he said. "I can fully trust her, more than anybody I've ever trusted in my life."
He and Brooks formed a special relationship, with Brooks calling him "Bubba."
When Kyle started thinking about asking Meagan to marry him in the late summer of 2019, he knew Brooks had to be involved in a special way, so he decided to name one of the two boats Evansville Marine Service was buying after Brooks.
"We were in the process of buying these boats, but it was going to take some time," he said.
Kyle bought the engagement ring that fall, and Meagan and he talked about the future. Around the holidays, she would wonder if he would pop the question. He would wonder if the boat was ever going to be ready.
Christmas passed.
"We had the boats in the shipyard to paint them, put his name on them, get everything done," Kyle said.
Finally, he found out the boat would be ready in time for Valentine's Day in 2020. There was only one problem. He wanted his and her families in on the surprise, and that meant waiting until the weekend.
"Valentine's Day came, and it didn't happen, but that Saturday I had everything planned," Kyle said. "We had people coming to town, and I told Brooks and her to get ready, that I had a surprise for them."
They went to the Newburgh riverfront, near where they had their first date. "What are we doing here?" Meagan remembers asking. "What is your boat doing here?"
As the boat approached closely with its newly painted nameboards, Kyle dropped down to one knee and asked her to marry him.
She said yes.
"It was just very shocking in like the best way possible," she said of him naming the boat for her son. "It was a really sweet moment to know that he wanted to involve Brooks in it as well because Brooks has been such a huge part of our relationship."
Meagan had no idea their mothers and sisters and some friends were waiting inside a nearby restaurant, The Landing. They ran out to wish the couple well. After a few drinks at the restaurant, Kyle arranged for a bus to take the group to the botanical garden at the nearby zoo for a surprise engagement party. Brooks went to daycare the next Monday telling his friends all about the bus ride. He was more excited about that than the proposal or the party, it turned out.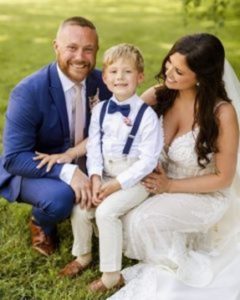 Kyle, Brooks and Meagan Aldrich in wedding photo. (Photo courtesy of Kyle and Meagan Aldrich)
The Brooks Andrew joined the Brantley B as boats in the company's fleet named after grandchildren of Evansville Marine Service president/owner Robert "Bob" Aldrich. The elder Aldrich began working for the company in 2001 and bought it in 2008.
Kyle worked his way up in the company, from cleaning barges and decking to running the Owensboro, Ky., office and then working in sales. He was promoted to vice president three years ago. Since the Aldriches took over, the full-service harbor company has expanded from under 100 employees to about 170, with nine different locations and its own harbor boats, live-on boats and shipyards with drydocks and three barge-cleaning facilities.
Their business family isn't the only one growing. Kyle and Meagan Aldrich were married June 5, 2021, in a ceremony in his parents' front yard in Chandler, about 10 miles north of the river. About 200 people celebrated at a reception in a tent in his parents' back yard.
A month later, the couple discovered that Brooks was going to become a big brother. Baker Nicole is due to arrive in April. Her dad promises that when the company gets ready to add another vessel, she will have one named after her, too.
FEBRUARY 11, 2022  BY SHELLEY BYRNE